Rashi Vats visits Araya Artisan Chocolate shop to create a sweet treat for Valentine's Day.
https://www.fox26houston.com/video/654679

Wine & Chocolate Pairings with Deborah Duncan
Nov 18, 2014.
http://www.khou.com/search/araya%20chocolate/

Why this former engineer took on chocolate
By Katy Stewart. Nov 14, 2014.
Social Engagement Manager-Houston Business Journal
It's no secret Houston's hot energy market attracts engineers. But they usually come to become engineers. Not so for Stefano Zullian, 42. The Caracas, Venezuela-born mechanical engineer came to Houston in 2009 to start upscale chocolatier Araya Artisan Chocolate with his wife and sister-in-law. The company now operates three retail gift shop-style locations, sells "from the kitchen" to corporate clients, and sells chocolates in Central Market, the gourmet grocery store owned by San Antonio-based H-E-B Grocery Company LP.
http://www.bizjournals.com/houston/print-edition/2014/11/14/why-this-former-engineer-took-on-chocolate.html


The International Chocolate Awards is pleased to announce the Grand Jury finalists of the 2013 Americas Semi-final, which was judged at the Institute of Culinary Education in New York, USA, 23-28 June 2013.
The Grand Jury finalists are the entries that made it to a final Grand Jury round after a two-day Selection process and two days of Main round judging by close to one hundred judges. The Gold and Silver winning products in each category and World Nominations will be announced at the Awards Ceremony in New York in September 2013 (date to be confirmed.)
Grand Jury Merit awards and The Mott Green Memorial Award, two recently created categories of the International Chocolate Awards Americas semi-final round, will be formally announced at the September ceremony.
The Grand Jury finalists of the 2013 Americas Semi-finals are:
Flavoured dark – Ganaches and truffles
Araya Artisan Chocolates (USA)
http://www.internationalchocolateawards.com/2013/
July 8th, 2013.
Houston chocolate makers win international recognition
Araya Artisan Chocolate, 1141 Uptown Park Blvd., 713.960.0850; arayachocolate.com

Araya Artisan Chocolate has opened a second outpost in Uptown Park (the first is in River Oaks Shopping Center). Located between Bill Walker Clothiers and Paul Carter Jewels, the 700-square-foot choc shop, owned by Stefano Zullian, wife Carla Susi and her sister Silvana Susi, offers chocolate confections spiked with pink salt, açai pomegranate and champagne rose — 36 flavors in all, made from fair-trade Venezuelan El Rey couverture chocolate and flavored with fruits, nuts, honey, infusions and liquors. And don't forget the macarons — 10 flavors shipped in from France.
http://www.papercitymag.com/Article/6572/Chocolate-Dreaming/
MAKING EASTER EGGS WITH RAUL PEIMBERT
http://univisionhouston.univision.com/noticias/videos-de-noticias/video/2013-03-28/chocolates-araya-delicioso-arte-hecho?refPath=%2Funivisionhouston
by Katherine Whaley / KHOU 11 News
Posted on April 6, 2012 at 7:54 AM
Updated today at 8:01 AM
HOUSTON—Attention chocoholics! If you think you'll have to give up the sweet stuff to slim your waistline, think again.
A new study published in the Archives of Internal Medicine found that people who ate chocolate more frequently had a lower Body Mass Index—or BMI, a measure of body fat.
It's like author Charles Dickens once said, "There is nothing better than a friend, unless it is a friend with chocolate."
But can chocolate really be figure-friendly? Yes, according to chocolate fan Neekie Kashani.
"I always ate chocolate growing up, it just melts in your mouth—it's so good," she said.
Kashani eats chocolate every day, and the weight stays off.
"I don't think women should deprive themselves of it," she said.
Need more proof of chocolate's slimming effects? Bryan Hassin, a self-proclaimed chocoholic, actually lost weight by adding more chocolate to his diet.
"In two years I actually lost about 20 pounds while I was in Switzerland, and that was eating chocolate every day, usually a couple of times a day," he explained. Bryan said a daily dose of chocolate has helped him stay trim back here at home.
"I think it makes a difference," he said.
So how do doctors explain this? Laura Moore, a Registered Dietitian at University of Texas Health Science Center said a little splurge now and then can keep you from over-indulging.
"The findings are inconclusive at this point, but I think by allowing ourselves a small treat... that can help," Moore said.
Stefano Zullian, co-owner of Araya chocolate shop, says the key is finding high-quality chocolate.
"The real dark chocolate, it doesn't have much sugar, it doesn't have much chemicals inside," he said.
Zullian said chocolate gets a bad reputation.
"I think that chocolate had a bad reputation tied to it because there are many other products that are called chocolate that are actually candy... Chocolate is more like wine, you have chocolate from different regions, chocolate from different type of seeds, and all of them have a different flavor," he said.
So don't feel guilty about a little indulgence—it can actually help kick the craving.
"For me, whenever I do have some chocolate, it does help eliminate my craving for it," Bryan said.
Moderation never hurts, either.
"It helps to have a balanced life," Bryan said.
And that makes chocolate a not-so-guilty pleasure!
_____________________________________________
Whether it's from her ranch outside Houston or her front-row perch at the haute-couture shows in Paris, this international society icon exudes elegance.
Residence: Houston and Tasajillo Ranch, in South Texas
Favorite fashion designers: Karl Lagerfeld, Carolina Herrera, Ralph Lauren, Oscar de la Renta, Prabal Gurung, Giorgio Armani, Talbot Runhof (from Germany), and Tory Burch for her great jeans and tops.
Item of clothing you would never throw out: I have a lot of golden oldies I'd hate to lose, including some special pieces that Karl Lagerfeld made me and a gold sequined haute-couture jacket that Coco herself made. I also love all my Halston triple-ply cashmere capes and original le smoking suits from Yves Saint Laurent.
How would you define your personal style? Class with a dash of sass but never trash.
Favorite color: White or black or red.
Favorite scents: Chanel's Coromandel Carolina Herrera, Jean Patou's Joy, Yves Saint Laurent's Paris, and Hermès's 24, Faubourg.
Let's talk about your beauty routine. Do you have a philosophy when it comes to your looks or makeup? I love to experiment with new makeup, and I'm addicted to lipsticks!
What's your face wash? I'm currently using Trilane's Gentle Cleanse.
Makeup? I've always thought makeup begins with your own attitude.
Where do you get your hair done? At home.
Favorite destination: Tasajillo Ranch
Favorite discovery: Despite how challenging it was at times, I thoroughly enjoyed camping out at the North Pole when it was minus 30 degrees.
Favorite hotel: The Lanesborough in London
Favorite luggage: Louis Vuitton's black Epi leather and black-and-tan pieces by T.Anthony.
Most memorable party: There were all these amazing galas that took place in Paris in the last 10 days of June during the 1980s. Only one of those would be the party of the year today!
What's in your evening bag? Lipstick, a gold compact, antique folding lorgnette, small blue-enamel or silver writing pen, a lace hanky, and fresh mints.
What's your go-to hostess gift? I prefer to find something personal to fit the hostess's personality at home, so it's different every time.
When you can't think of something to give a friend, what do you give? Handmade chocolates or macaroons from Araya Artisan Chocolate in Houston.
Every lady has a vice. What's yours? Desserts! Desserts! Desserts!
Necessary extravagance: Time!
Favorite writers: Short stories by Alice Munro and Raymond Carver; Lewis Lapham and Lapham's Quarterly; Robert B. Reich.
Favorite cocktail: Champagne with ice.
Handwritten thank-you note or immediate e-mail? A handwritten note by mail or fax machine. I also like picking up the old-fashioned phone receiver with a real live voice on the other end!
The true hallmark of modern elegance is: Actually living a life that can adapt to any situation with style, poise, and grace.
Clockwise: With Baptiste Giabiconi, macaroons, the Lanesborough, London, Louis Vuitton duffel, $2,240, Oscar de la Renta, Yves Saint Laurent Paris, $77.


Read more: Lynn Wyatt Style Secrets – Lynn Wyatt Favorite Things - Harper's BAZAAR
_______________________________________________________________________________________________________________
Araya Artisan Chocolate
The people at Araya really get it. They make beautiful chocolates that taste fabulous, and present them in lovely boxes designed to keep each little sculptural piece in pristine condition.
I sampled 28 of their luscious line of 35. Each fulfilled my quintessential idea of dessert. The shells were all tempered to a lovely shine and adorned with an appealing array of abstract designs, making them visually tantalizing.
Araya uses El Ray couverture from Venezuela, which isn't surprising as the three founders, Stefano Zullian, his wife Carla, and her sister Silvana, are from that part of South America. All three quit their day jobs and studied with local chocolatiers before choosing Houston, Texas as their company's home base.
Araya is the name of a Venezuelan town that straddles the lush rainforest where many of South America's finest cocoa beans are grown and the parched land across the peninsula where a salt mine stands.
I thoroughly enjoyed every bite from this collection. Some of my favorites were:
Manhattan, a dark ganache infused with Maker's Mark Bourbon, Vermouth and cherry juice. I would happily order a box of those, all by themselves.
Dulce de Leche, the classic caramel blended with milk chocolate ganache. Another winner.
Orange Marzipan, a deliciously tropical riff on marzipan.
Margarita, truly stellar, housed a dark ganache with Jose Cuervo Tequila and lime zest. It was finished with a few grains of salt and couldn't be better.
Peanut Butter and Berries, an inspired combination of dark chocolate ganache and peanut butter topped with blackberry pâté de fruit.
Chipotle, an ultra silky 61% Venezuelan ganache perfectly balanced with smokey chipotle heat.
Chai Spice, a gustatory trapeze artist poised on the brink of black tea cardamom, cinnamon, ginger and cloves. A true melding of flavors where the whole was far greater than the sum of its parts.
Passion Fruit, the essence of this marvelously addictive flavor in a white chocolate mousse.
Strawberry Balsamic, just enough rich vinegar reduction to heighten the strawberry ganache.
Acai Pomegranate, another layered affair with acai berry pâté de fruit atop a pomegranate dark chocolate ganache. Heaven.
Salty Caramel Rum, a sublime deep caramel and chocolate ganache with anejo rum and a sprinkle of sea salt.
Araya aims to please. If the alcohol infused chocolates appeal to you you can order a box of just those flavors. Ditto for the Dark, Milk, or Nuts collections.
They offer a few different package designs. All are lovely and would make a welcome gift.
_______________________________________________________________________________________________________________
By MOLLY GLENTZER, STAFF WRITER -

Published 05:16 p.m., Thursday, December 8, 2011

Houston has talent.

The Bayou City is home to a wealth of artisans and designers whose products - from gourmet foodstuffs and fashionable luxuries to simple, practical home goods - make meaningful, out-of-the-ordinary gifts.

Buying local helps reduce your carbon footprint. And while Houston's economy is healthier than that of many other cities, every little bit of stimulus helps.

According to a recent ABC News report, if every U.S. citizen spent $64 on U.S.-made goods this holiday season, 200,000 new jobs could be created.

We've given you a head start here with gift ideas that represent the range of craftspeople working in Houston, from well-established brands such as the multigenerational Hamilton Shirts to growing fashion-accessories label Elaine Turner as well as start-ups with solid business plans and creatives who work alone in small studios to supplement "real" jobs.

Venezuelan newcomers Stefano Zullian and Carla Susiscouted the U.S. before moving to Houston two years ago with a tasteful business plan. At their sleek Araya Artisan Chocolate shop in River Oaks Shopping Center, gorgeously crafted chocolates infused with exotic ingredients are packaged in artful boxes that need no gift wrap. The chocolates are handmade, with an assist from their partner Silvana Susi, Carla's sister, at their facility in Katy.

Araya, Zullian said, is a Venezuelan town known for its salt mines; they chose that name because they didn't want their product to be perceived as candy. "Our chocolates basically are a bridge to help us combine flavors," he explained. Their best sellers include flavors such as pink salt and strawberry-balsamic vinegar; a chipotle mix is also popular.

"There was a national economic crisis in 2009, but in Houston we found a completely different landscape," Zullian said. "It's been a great place - especially compared to what friends are doing in Atlanta."

Paule Hewlett, however, felt the pinch. A veteran freelance copywriter, she got busy with her hands when business slowed.

She's been drawing simple, nature-inspired motifs such as olive branches, moths and spiders for about a decade. It started after she read The Artist's Way, a book about "discovering the live you want to live," she said.

Now Hewlett screen-prints pen-and-ink designs using eco-friendly techniques on "heritage" fabrics - 100 percent cotton and linen - to create limited-edition scarves, table linens and other goods for her label, Beyond Her.

"I'm trying to make practical, everyday things beautiful," she said.

Beyond Her has seen her through hard times, she said, but at times it feels more like a "self-sustaining hobby" than a job. "Right now it's like zero percent of my income, but it's not costing me anything," she said.

Artisans are important to the city's tapestry, saidGeorge Marshall Worthington, founder of the Creative Houston (www.creativehouston .net), a web portal that promotes all types of innovative "creative capital" in the Houston metropolitan area.

Worthington said there are about 15,000 creative businesses in Houston, including service companies that support artists and designers. (And that figure doesn't encompass gastronomy, he noted.)

"Things that are beautiful, unique and filled with one person's passion lift spirits and maybe also lift the economy a little," he said.

"They represent certain skills that aren't just limited to the artistic product. Dr. Michael DeBakeyused to talk about how his mother taught him to sew, and he became a world-famous

_______________________________________________________________________________________________________________

CARLA SUSI
restaurant ARAYA ARTISAN CHOCOLATE
cuisine HANDCRAFTED CHOCOLATES
2013 W. GRAY ST., Houston, TX 77019
832.967.7935 | www.ARAYACHOCOLATE.com


Favorite late night spot for a bite?
Nothing better than Escargot Gratin at Brasserie 19.
Best Breakfast? "Arepa." Just like Mexico has their tortillas, Venezuela has the Arepa; it is made of corn and they are the perfect container for gourmet or comfort food. People fill it with all type of ingredients. For me, the best breakfast is a homemade arepa with queso fresco, an espresso and orange juice.
Best Brunch? I had the best brunch at Hugo's. Loved the Ceviche de Atun with avocado and mango.
What ingredient can you not live without in the kitchen and why? Chocolate!! Viva el chocolate!! It's not only the base ingredient at the laboratory, but at home, I use chocolate not only to bake or to spread on top of pancakes or croissants, but also with salty food. My favorite is a chocolate barbecue sauce similar to Mole that my husband prepares.
What utensil can you not live without?
The whisk. It even works to keep the family straight!
What's your pet peeve? Negative people.
Favorite affordable wine? Montes Alpha, Cabernet Sauvignon from Chile. It's not the most affordable, but its a great value for the quality.
Favorite place for dessert? That is an obvious one: Araya, of course! However, my favorite cakes are from Epicure Bakery, our neighbor. The Pistachio Cake is too much!
On what magazine cover, other than 002's, would you like to be featured? Gourmet.
Who are your favorite chef, restaurant and dish?
Chef Danny Trace at Brennan's. His Jumbo Lump Blue Crabcakes are simply amazing. Last year we did a special project and invited some of Houston's chefs to make chocolate with us and we had great fun working along with Chef Danny.
What is your comfort food? Linguini al pesto, freshly made pesto.
Do you use a recipe or wing it? If I am creating a new dish or chocolate
flavor I just follow my instincts, which actually used to be a challenge when we
needed to document it. But once this is done we always follow the recipes for
consistency.
Is there a food you won't eat? Morcillas. Tried them once and… no way,
I will leave that for my husband.
What do you see as the next food trend? It is interesting to see the whole food truck movement, and I like to see people embracing the notion of good food cooked fast (very different from fast food). On the dessert side, I hope people will agree with me that there is a new trend in gourmet chocolate, focus on healthy dark chocolate, where unusual and unexpected combinations are created. Also on desserts, the introduction of French macarons as a serious alternative to the cupcakes. No question why I am so passionate about Araya.
At home, what do you keep on hand to serve drop-in guests?
Wine, prosciutto and cheese, while I create something special.
What would people be surprised to find in your home refrigerator? Southwest Dip from Robert's Reserve. I put it on almost everything.
Favorite sandwich Roasted peppers and goat cheese on a baguette. Just make it simple!Favorite ice cream mix-in/topping The guys from Petit Sweets make wonderful custard and when topped with their chocolate fudge….it is worth every calorie. Favorite truck food: Roadie is the new truck from Central Market. They just launched a few weeks ago and I had the privilege to be there the first day. You will not be disappointed. Favorite spot to exercise/run The Terry Hershey Park. The name is a mere coincidence. It is a beautiful park to run and bike. My kids love to ride their bikes while my husband and I run.
Photography by Kennon Evett
_________________________________________________________________________________________________________________
SAY 'I LOVE YOU' WITH CHOCOLATE FROM ARAYA
Little, individuals pieces of art – that's truly what these adorable artisan chocolates from Araya are! High grade, primo blends from Venezuela that taste just as impressive as they look. I was lucky enough to try a few…the Pink Salt, which is a strong dark chocolate ganache with a touch of pink salt from the Himalayan Mountains! Also their Strawberry Balsamic that's hand painted and shaped as a heart…just incredible, rich flavors. Pick up one of their stellar, mix variety gift boxes that hold anywhere from 6 to 36 custom pieces. Now is the time, guys, before Valentine's Day arrives!
see the video at: GOOD TASTE with tanji
_______________________________________________________________________________________________________________
Here are a few more ways life is like a box of chocolates: You'll run into the occasional nut, and if your name is Russell Stover, girls probably don't want you. You also want to seek quality over quantity, and the chocolate at Araya, the tiny, elegant boutique next door to the River Oaks Theater, is definitely the former.
Other than Chocolate Du Monde, which is fantastic but imports its product rather than make it, Houston didn't have much in the way of gourmet chocolate until a year ago. That's when owners Stefano Zullian, his wife Carla and her sister Silvana quit their day jobs to spend some time learning the chocolate trade from friends in Venezuela and relocate to Houston to set up shop. In a moving tale of American commerce, the family took a comparative look at several U.S. cities before choosing ours as the best setting to start a small business.
Armed with stocks of Venezuelan El Rey chocolate, considered some of the best in the world, the team dreams up recipes with the Houston palate in mind and whips them up in a Katy kitchen. Tender little packages of orange marzipan and hazelnut praline in ganache rest in orderly rows within a glass case. Among the bestsellers are pink salt and margarita, a shiny dark chocolate orb sprinkled with bright green flakes. I was instructed to place the entire chocolate into my mouth at once to fully experience the layers of chocolate, tequila, lime and salt as they moved to and from the foreground.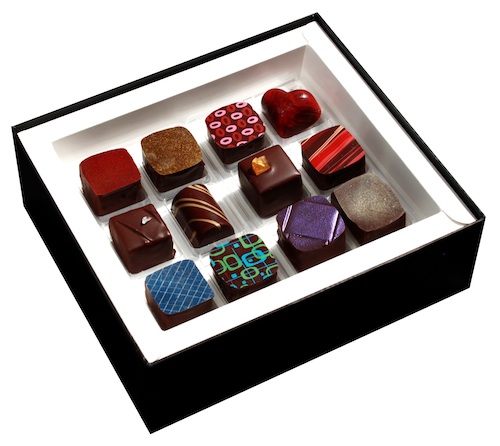 The strawberry balsamic, another customer favorite, is an adorable hand-painted, marbled red heart that hits notes both sweet and savory. Key lime had a brilliant citrus zing to it, and the peanut butter and berry was surprisingly adult. More international flavors include a Moroccan tea with mint, and the bright passionfruit is a very Venezuelan option.
A few vegan chocolates recently made their debut, sweetened with agave in açai pomegranate and royal cherry. For a sturdier, heftier portion, there are also a few chocolate bars (including one studded with bacon) to choose from. Life is also like gourmet bacon dark chocolate in that we try hard to look pretty on the outside but on the inside we're just pigs.
ARAYA ARTISAN CHOCOLATE, 2013 W. Gray, 832-967-7960 and 1575 W. Grand Pkwy. S2, Suite #1000, Katy, 281-395-1050
_______________________________________________________________________________________________________________

Hi, my name is Pat, and I am a chocoholic. What began at the age of six as an obsession with milk chocolate (my secret vice was a Saturday matinee and a Hershey's bar with almonds) eventually morphed into a full-blown addiction to dark chocolate. I'm talking ten or more bars of different chocolate on the kitchen counter at any given time, chocolate seminars, trips planned around chocolate, and dreams of starting a chocolate culinary tour company. My heroine is Chloe Doutre-Roussel, author ofThe Chocolate Connoisseur (there are a few of "the pink books" still available on Amazon). So imagine how happy I was when an email popped up a week or so ago touting a two-month-old chocolate boutique in the River Oaks shopping village in Houston. I went, I ate, I was bowled over. Araya Artisan Chocolates is the real deal. True, these are truffles and bonbons rather than chocolate bars (a distinction which separates the mere chocolate lovers from the nut cases such as myself), but these are carefully crafted made from a top-of-the-line chocolate (El Rey) and the flavor combinations are astonishing. Even some that I had my doubts about (like the Margarita) ended up working. Not only that, they're gorgeous, like gems, or butterflies, which you will see on Araya's web site. I must have sampled about a dozen or fifteen last weekend, and there really wasn't one that I disliked. But if I had to choose my favorites, they would be these three: Chipotle (61 percent dark chocolate ganache mixed with chipotle puree, finished with a dark chocolate couverture, or shell); Key Lime (milk chocolate ganache with lime zest and juice under a thin white chocolate couverture); and Cafe Cafe (this one is chocolate ganache infused with Colombian coffee and rolled in flavored sugar). I expect the little boutique (it's to the right of the River Oaks Theater) is going to be slammed for Mother's Day, so plan to go another time. It'll still be there, and when it's not so busy, you might have a chance to meet one of the three charming young owners–husband and wife Stefano Zullian and Karla Susi, and Karla's sister Silvana Susi–who are from Caracas, Venezuela. (Shown: cacao pods in the raw.)
_______________________________________________________________________________________________________________
Something Sweet "Sweet News on the Block"
By Robin Barr Sussman
There's a new Houston-based chocolate shop in River Oaks shopping center named Araya Artisan Chocolate (2013 W. Gray, 832-967-7960, www.arayachocolate.com). Expect to find a wide variety of chocolates in the modern streamlined shop such as flavor filled bon bons, contemporary square chocolates painted artistically in bright orange, pink, greens and blues, and hand-rolled truffles in decadent flavors like cappuccino, vodka citron and cinnamon and nuts. They pride themselves on using no preservatives, honey instead of sugar, and all fresh ingredients—like real Key limes, tequila, and flavored salt in the Margarita chocolates.